Are US disabled parking permits valid in the EU? This question about disabled parking permit rules is getting asked a lot as people plan their post-lockdown travels. The EU, which comprises the large majority of European countries, has always been a very popular travel destination for Americans, and will no doubt continue to be so when the COVID-19 lockdown ends.
If you're wondering, "Can I use my handicap placard when traveling to Europe?", read on for all you need to know.
Are The EU And Europe The Same Thing?
No, the EU and Europe are not the same thing. The EU is a political organization that has several European states as members. But while all EU member states are European, not all European states are members of the EU. The European states that are not members of the EU include the UK, Switzerland, Norway, Iceland, and several countries in Eastern Europe.
What Countries Are In The EU?
There are 27 countries in the EU. They are:
Austria
Belgium
Bulgaria
Croatia
Republic of Cyprus
Czech Republic
Denmark
Estonia
Finland
France
Germany
Greece
Hungary
Ireland
Italy
Latvia
Lithuania
Luxembourg
Malta
Netherlands
Poland
Portugal
Romania
Slovakia
Slovenia
Spain
Sweden
Are US Handicap Placards Valid In The EU?
Yes, US disabled parking permits are valid in all 27 EU states. All EU countries are signed up to the European Conference of Ministers of Transport (ECMT) agreement, which states that every signatory nation will recognize disabled parking permits from every other signatory nation. The ECMT agreement also includes several non-European countries:
Australia
Canada
Japan
Korea
New Zealand
United States
Are US Handicap Placards Valid In Non-EU European Countries?
Yes, US disabled parking permits are valid in non-EU European countries. Other European countries signed up to the ECMT agreement include:
Albania
Armenia
Azerbaijan
Belarus
Bosnia and Herzegovina
Georgia
Liechtenstein
North Macedonia
Moldova
Montenegro
Norway
Russia
Serbia
Switzerland
Turkey
Ukraine
UK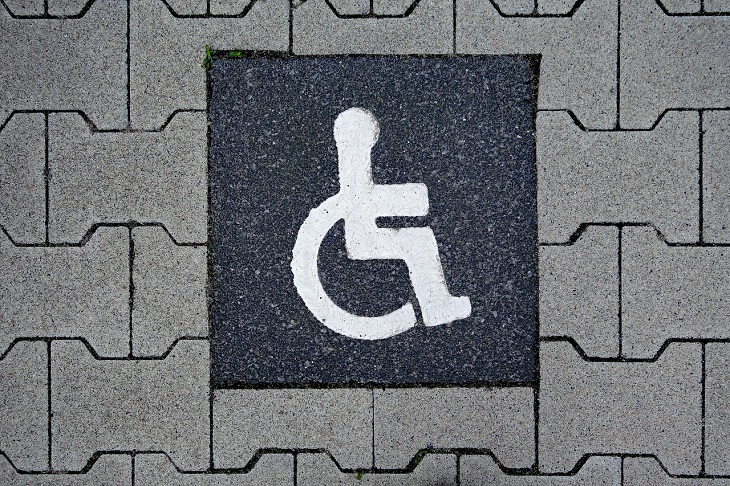 Are All Types Of US Disabled Parking Permit Valid In The EU?
Each American state issues several different types of disabled parking permits. These include permanent license plates and placards, temporary placards, organizational placards and plates, and Disabled Veterans license plates. All these different types of disabled parking permits are valid in the EU and other European countries.
The core of disabled parking permit rules is the same in the EU and the US. Disabled permit holders are allowed to park in any designated disabled access parking space. Every location is required to have a certain number of disabled spaces. Permit holders are not allowed to park in areas reserved for emergency vehicles or loading or designated as "No Parking" areas.
However, as in the US, some specific aspects of disabled parking permit rules vary by jurisdiction within the EU. For example, some areas allow disabled permit holders to park in metered, on-street spaces for free, while others do not. Like in the US, it's a good idea to check with local disabled parking authorities in a region of the EU that you're planning to visit for the first time to find out the specifics of their disabled parking rules.
Are Driving Rules In The EU Different To Those In The US?
Driving rules in the EU are essentially the same as in the US. The only major difference is that in Ireland, the UK, Cyprus, and Malta, vehicles drive on the left side of the road.
How Can I Get A Car In The EU?
Car hire companies are very widespread in the EU. Every regional hub has several car rental companies. Zipcar operates in many areas of Europe, including most of the UK and Iceland, as well as Paris, Madrid, and Istanbul. Most other European countries have local car-sharing companies that operate a similar service to Zipcar – for example, GoCar in Ireland.
What Are The Qualifying Conditions For Disabled Parking In The US?
If you have not yet got your disabled parking permit, now is a good time to do so. If you are planning to travel to Europe, having a disabled permit will make getting around as easy and hassle-free as possible.
The qualifying conditions for a disabled parking permit vary slightly state by state, but the main group of disabilities that qualify a person are:
Not being able to walk 200 feet without needing to stop to rest.
Not being able to walk without the use of a crutch, cane, wheelchair, brace, another person, or another assistive device.
Suffering from lung disease.
Suffering from a heart condition, designated Class III or IV by the American Heart Association.
Suffering from an arthritic condition.
Needing to use a portable oxygen tank.
How To Apply For A Disabled Parking Permit
The easiest way to apply for a disabled parking permit is to set up a consultation with a local medical professional through DisabledParking.com. This will allow you to arrange your disabled parking permit remotely from your home.
Featured image by Free-Photos on Pixabay