As summer has progressed, COVID restrictions have loosened in many parts of the country and people have finally been able to relax, let their hair down, and plan some summer vacations. Many handicap permit holders will be driving more throughout the warmer months, so it is crucial to ensure you're driving safely and protecting yourself, your passengers, and other road users while you drive this summer.
Driving In Summer
Driving in summer can be a beautiful experience. It's the perfect time to drive scenic routes in great weather, take road trips, or travel to visit friends or family in other cities or states. But summer driving also throws up some issues that people need to be aware of. Driving in summer is great fun, but it is important to stay safe.
What Is It Like Driving In The Summer?
Driving in summer is unique in several ways. You need to stay alert and take important precautions to make sure you, and other road users, stay safe. In summer the weather is warm, the sun is especially bright, the roads are more busy than usual, some road users tend to drive in a more lax way, and people attend more parties and social gatherings. All of these factors can cause hazards on the roads during the summer months.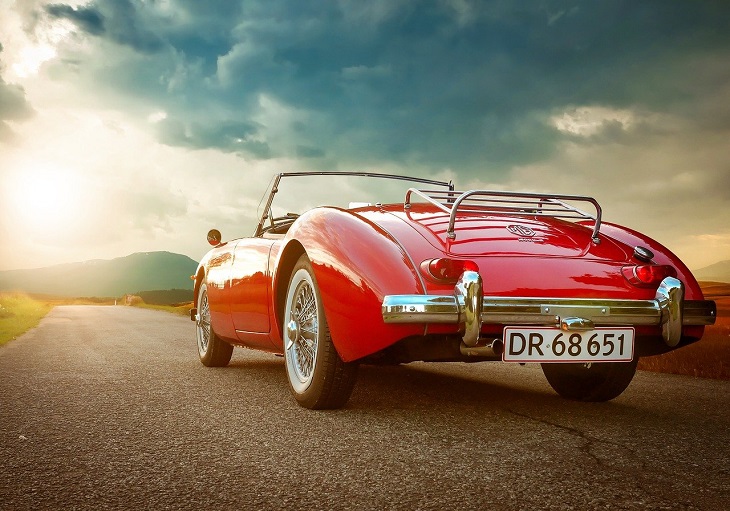 Is It Safe To Drive In Very Hot Weather?
Driving during the summer in hot weather with the air conditioning turned up – or even better, with the roof down – is one of life's great pleasures. This is why road trips are especially popular during the summer months. Driving in hot weather is safe, providing you take the right precautions and practice safe summer driving.
How Do I Prepare My Car For Hot Weather?
During hot summer weather, vehicles can overheat, air conditioning systems can fail, tires can overinflate and blow out, and asphalt roads can melt, erode, or crack. It is crucial that you're aware of the effects of hot weather on your vehicle and on roads, and that you take all necessary precautions to prepare and protect yourself.
Summer Driving Safety Tips
Here is our list of top safety tips to protect you on the road this summer.
1. Prepare Your Vehicle For Hot Weather
Overheating can cause vehicle breakdowns and tire blowouts in summer. To reduce the chances of a breakdown, before driving in summer you should:
Check tire pressure.
Check your vehicle's coolant system, radiator, and pressure cap.
Check hoses and belts for signs of blisters, cracks, and wear.
Check fuel, water, and coolant levels and look for leaks.
2. Always Bring Proper Hydration
Dehydration is a risk during hot summer weather. It can lead to tiredness and illness. Always make sure your vehicle is well stocked with plenty of fresh drinking water when you drive during hot summer weather.
3. Keep Your Vehicle Stocked With Essential Safety Equipment
All of the following safety equipment should be stored in your vehicle when you drive during summer:
Coolant fluid
Oil
Drinking water
First aid kit
Spare medication if necessary
Antihistamines
Cell phone and car mobile phone charger
Flashlight and batteries
Reflective triangles and a reflective vest
Spare tire, tripod jack, wheel wrench
Tool kit
Jumper cables
Fire extinguisher
Duct tape
Windshield washer fluid
4. Don't Forget Sunglasses
Being unable to see properly while driving in bright sunlight is dangerous and can cause accidents. Always bring sunglasses while driving in summer.
5. Never Drive While Tired
Drowsy driving is lethal. While driving in summer, especially on long-distance drives, it is easy to get tired. Always stop for a coffee or nap if you feel tired while driving during summer.
6. Practice Safe Defensive Driving
During summer months (and every other time of year!) you should practice defensive driving by:
Having safety as your top priority.
Staying aware of your surroundings.
Never relying on good driving from other road users.
Maintaining a safe distance from the vehicle in front of you.
Driving within the speed limit.
Avoiding distractions.
7. Be Aware Of Vacation Traffic
During holiday periods, roads are busier. Busy roads can cause dangerous driving and road rage. Always plan ahead and find out what traffic conditions will be like on your journey when you're driving in summer.
8. Check Ahead For Adverse Weather Conditions
In many parts of the country, summer weather can be quite unpredictable: extreme heat, heavy rain, storms, and even tornados. Stay safe while driving in summer by checking ahead for weather conditions on your journey.
9. Never Drink And Drive
People attend more parties, gatherings, and barbeques during the summer months. This usually means more alcohol is consumed. If you are driving, you should abstain from drinking any alcohol whatsoever. It's simply not worth the risk.
10. Remember To Bring Your Handicap Parking Permit
All US states recognize disabled parking permits from all other states. Wherever you're driving this summer, you can use your handicap placard while you're there, so always keep it in your vehicle!
Featured image by Simon Berger on Unsplash