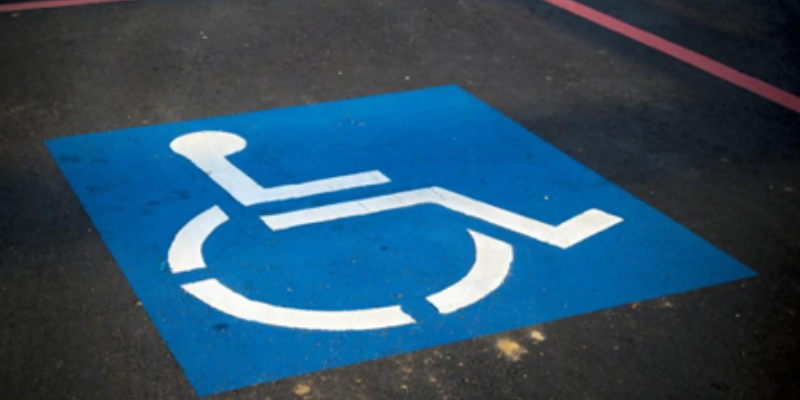 If you have a disability which impairs your mobility in a significant manner, then you know it's one of the most frustrating things in the world when you have to walk all the way across a parking lot to get where you need to go! That may even be a deciding factor in your ability to carry out errands in your day to day life.
The state of Oklahoma wants to ensure that all of its residents are able to have successful, fulfilling lives — especially those who are suffering disabilities. In front of most buildings and businesses, there are parking spaces specifically set aside as accommodations for those with disabilities. These spaces are immediately in front of the entrance and usually provide a much easier way for those with handicaps to complete their errands.
However, these parking spaces, due to their proximity to the entrance, are necessarily very limited in number. It is in everyone's best interest, therefore, the the state of Oklahoma has and enforces very strict criteria for qualification for an Oklahoma disabled parking permit. Read on for a comprehensive list of these criteria, and how to work with a medical professional to complete your application.
Working with a Medical Professional to Confirm Your Disability
In order to make sure that your disability qualifies you for use of one of these limited parking areas, the state of Oklahoma requires that a licensed medical professional verifies your disability. Please work with a doctor, whether in person or by video chat, to go through the following list of qualifying criteria to see if you are eligible.
In the state of Oklahoma, you may be eligible for a disabled parking permit if:
You have any kind of disability that impairs your mobility such that you are unable to walk a distance of two hundred feet without falling or stopping to rest;
You have a disability that requires you to use any form of portable oxygen;
You cannot walk any measurable distance without the use of an assisted device, including canes, braces, walkers, wheelchairs, prosthetic devices, carts, or the help of another person;
You have lung disease as defined by a forced or respiratory expiratory volume of less than one liter per second when measured by spirometry, or if your arterial oxygen tension while resting, while breathing room air, is less than 60 mm/Hg;
You have heart disease that meets the requirements for Class III or Class IV heart failure as determined by the American Heart Association;
You have any neurologic, arthritic, orthopedic, or pregnancy-related disorder which severely affects your ability to walk;
You are documented as suffering legal blindness; or
You are missing one or more of your limbs in such a way that it significantly impairs your mobility.
Once you have confirmed with your doctor that your medical condition meets one or more of these criteria, have your doctor sign the application form. The application form is downloadable from the Oklahoma Department of Public Safety website.
Your Disability and Your Ability to Drive
If you submit an application for a disabled parking permit, there is one thing of which you should definitely be aware. It is not unsurprising that the state of Oklahoma may believe that if you fall into one of the above scenarios, and you have a currently non-expired driver's license, you may be a liability on the roads within the state.
Because of this, the state of Oklahoma reserves the right to review the driving record (including the status of your license) of everyone who submits an application for a disabled parking permit. Your driver's license may be revoked, and you may be asked to apply for a non-driver's license within the state, if it is deemed that you have a permanent condition which makes you unsafe on the road.
Veterans and Oklahoma Disabled Parking Permits
If you already have a disabled parking placard and you sustain injuries or medical conditions that are at least fifty percent related to your service in the United States military, you may be eligible for Disabled Veterans Plates. To request these, download the specific Application for a Disabled American Veteran License Plate from the Department of Public Safety.
There are fees associated with American veteran license plates. Along with your letter stating your eligibility and the application form, please send $6.50 as payment for the plates if you plan on picking them up in person, and $9.50 if you plan on asking for them to be mailed to your place of residence.
Video Chatting with a Medical Professional
If you decided to video chat with a licensed medical professional to expedite your medical confirmation and application process, then your application and medical form will be emailed to the Department of Public Safety immediately after your call is finished. However, if you decided to speak with a doctor in person, then you will be responsible for mailing the form and associated materials to the address at the base of the form.
Please be sure to wait for your disabled parking permit to arrive in the mail before you begin to enjoy the privileges associated with your permit! Your permit will arrive with placards you can use to legally park in disabled parking spaces. Please place these placards on your rear-view window when you are parking, and remove it before you start your car.
Having an Oklahoma disabled parking permit, placards, and/or plates can make your life much easier by allowing you to park in spaces specifically set aside for the use of those who have disabilities. If you have a disability which qualifies you for a permit, then you can use it as a tool to make running errands possible.
However, the state of Oklahoma does have processes in place to ensure that only those who need to use disabled accommodations are able to. Please work with a medical professional, either online or in person, to make sure that you qualify for your permit.