Been wondering "How do I get a handicap parking permit in Atlanta?" This post is for you! Below, we'll discuss the qualifying conditions, application process, and how to use your Georgia disabled parking permit. Once we're done, you'll have all the information you need about how to get a disabled parking permit in Atlanta to make the process as smooth as possible. Let's get started!
What are the qualifying conditions for an Atlanta disability parking permit?
Like most states, Georgia requires medical certification from those who wish to receive a disabled parking permit. If you are a resident of Atlanta and have one of the below conditions, you should be able to qualify for an Atlanta disabled person parking permit, according to the state's Department of Revenue:
Extreme vision impairment
Extremely limited mobility (inability to walk 200 feet without stopping or needing to rest)
Inability to walk without an assistive device (for example, a cane, a brace, or needing to use a wheelchair)
Being extremely restricted by lung disease – "to such an extent that (your) forced respiratory volume for one second, when measured by Spiro meter, is less than one liter, or when at rest (your) arterial oxygen tension is less than 60 millimeters of mercury on room air" (Department of Revenue)
Severe hearing impairment
Cardiac illness (Class 3 or 4 of the American Heart Association classifications)
Any neurological, arthritic, or orthopedic condition that is debilitating
Pregnancy
Serious respiratory conditions requiring use of an oxygen tank
To assess whether you meet these criteria to enable your application to proceed, you'll need to have a consultation with a licensed Atlanta physician. Not every potentially qualifying disability is explicitly named above, so if your medical condition isn't listed but seriously impacts your daily life, you can discuss this with your physician, as there is still as chance you may qualify for disabled parking.
Good news: the medical consultation does not have to happen in person! You can also meet your physician online via telemedicine, which can be a lot easier for those with mobility issues. Disabled Parking can help you to organize this – simply get in touch (and check out this post for more information on qualifying conditions).
How do I get a handicap parking permit in Atlanta?
You can find the MV-9D form online, which you can complete and give to your physician. Once you have completed your medical consultation, the doctor will certify that you qualify for disabled parking by signing your application form. You must bring this form to your local County Tag office to finalize your registration, along with a valid ID from the state of Georgia.
How much is a handicap placard in Atlanta?
There is no fee associated with either a temporary or permanent handicap placard in Atlanta (aside from the cost of the medical consultation carried out during the application process). However, the fee for disabled parking plates is $20 per year.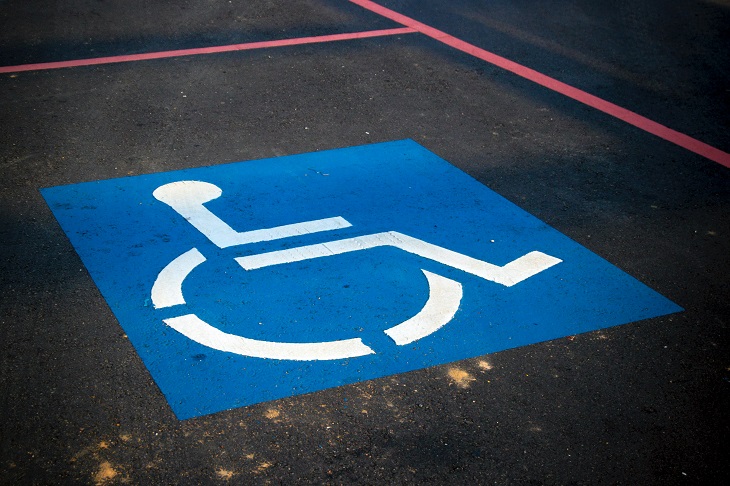 How do I use my Atlanta disabled parking permit?
Your Atlanta disabled parking permit allows you to legally park in disabled parking spaces, which are conveniently located to avoid excessive walking to and from buildings, and adequately sized for adapted vehicles. Just make sure you always make your placard visible to parking attendants by hanging it on your rearview mirror when your vehicle is parked. And never let others use your placard! It is for your use only, and using it falsely is a criminal offence.
Make sure you are aware of the type of placard you have so you can make sure you renew it in time. Temporary placards are red and expire after 180 days. Permanent ones are blue, and last for four years before replacement is needed (so "permanent" doesn't really mean permanent in this case!). It's important to renew your Atlanta disabled parking permit before it expires. If you fail to do so, your permit is no longer valid and you could run into trouble with the law. (Check out this post for more information on the renewal process.)
Driving in the city can be difficult because there's so much going on. However, a Georgia disabled parking permit can bring some relief to stressed drivers in the city of Atlanta by ensuring you'll have access to an appropriate parking space. Disabled Parking is here to help with the application process, so get in touch today!